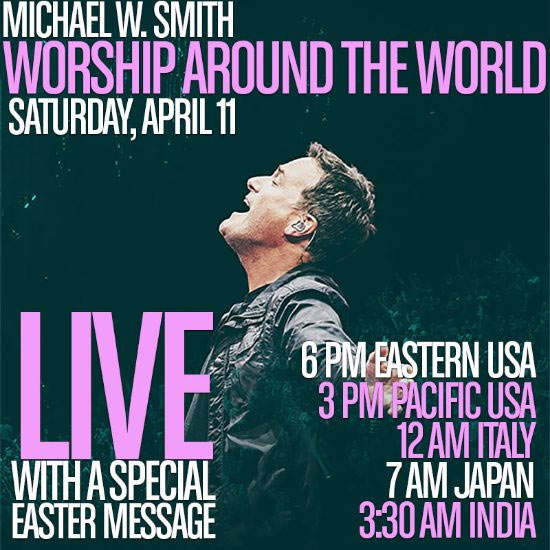 Michael W. Smith has invited fans and listeners to join him online this weekend across several different events and platforms for worship this Easter. Below is a list of places where you can see Michael W. Smith online and leading worship this Easter weekend.
FIRST:  Michael wants to encourage all of you to tune into your home church streaming services as your primary places of worship this weekend.  Michael and all of us on his team will be doing the same.  All / most of the below will be available for on-demand viewing at the mentioned websites if you have to miss them.
Good Friday, April 10th:
5:00 pm est:  GoodFriday.com

Worship and Prayer Service with Michael W. Smith, Nick Hall, Max Lucado, Lauren Daigle, Francis Chan, and many more

6:00 pm est:  Interview on Spicer & Company
Saturday, April 11th:
9:45 am est:  Fox and Friends Interview

Michael will be live on Fox & Friends between 9:45 am and 10 am est.

3:00 pm est:  Prayer Request Live Event brought by Pray.com

Michael has contributed a live song from his studio to his friends at Pray.com.  Facebook.com/Pray

6:00 pm est:  Worship Around the World with Michael W. Smith

Live from Michael's studio, Michael W. and Debbie Smith will share an Easter message and scripture before sharing some special worship moments.
Watch live here:  Facebook.com/MichaelWSmithOfficial
Full concert next week with Michael W. Smith on Saturday, April 18th at 5:30 pm.
Easter Sunday, April 12th:
10:00 am est:  Easter Service from Central Park (FoxNews.com & BillyGraham.org)

Michael W. Smith will be leading worship from New York City's Central Park and Franklin Graham will bring a message of hope and love.  Tune in live on Fox News.  The service will be available following the broadcast at BillyGraham.org.
For those of you without a home church, Michael W. Smith is taking part in Brentwood Baptist's online worship services from Tennessee.