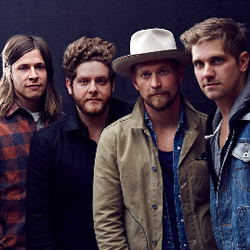 NEEDTOBREATHE has been busy in the studio recording their sixth album. Today, the guys offered an update on the process and gave a little insight into how it's coming together…
"Happy November ya'll. We're extremely thankful for so many things this year. As a band, we are more excited than ever to be doing what we do and we think its crazy that people care about the music we are making. Thank you to you, the fans, for helping us continue to do what we love. Thank you for telling your friends about our band and for supporting us by coming out to shows and buying our records. We feel like the best is yet to come and can't wait for what's next.
If you happen to be following us on Instagram, Twitter, or any other interweb platform, you might have seen that we are hard at work on our sixth studio album! It's crazy to think how far we've come as a band since the last time we were in the studio. We're having the time of our lives writing new music and we can't wait for you to hear it.
When we are on tour, we are almost always working on new music as a band. Whether its in soundcheck or sitting backstage, we like to keep things fresh and bounce around new ideas. After two years of touring the last record, we have so much material to sift through as we start the recording process. We can't wait to bring these new ideas out into the light of day. There's still a lot of work to do and we are just scratching the surface of the record, but we are more excited than ever about the direction this thing is headed.
We don't have a title or a release date just yet, but we'll make sure you're the very first to know."
###