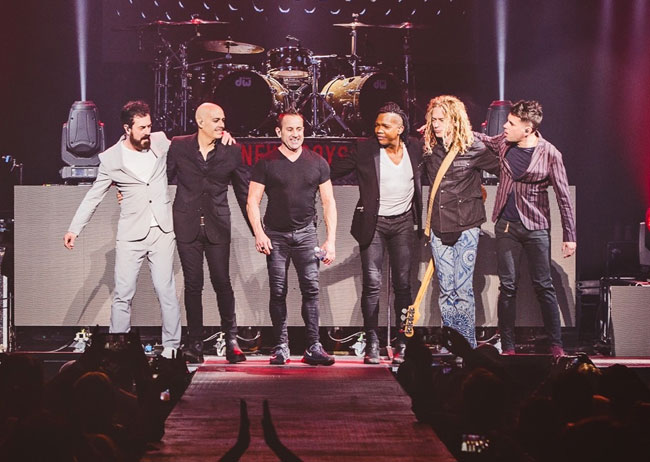 Kicking-off last week in California, the landmark "Newsboys United Tour" saw sellout crowds throughout the opening weekend. Boasting "all the hits… under one roof… for one tour," the history-making Newsboys United lineup played to capacity audiences at City National Civic in San Jose, Redding Civic Auditorium and the Visalia Convention Center, as well as to a near-sellout crowd at Stockton's Bob Hope Theatre.
Drawing legions of devoted fans spanning multiple generations, the "Newsboys United Tour" showcases an electrifying headlining set from the supergroup. Each night current members Michael Tait, Duncan Phillips, Jeff Frankenstein and Jody Davis are joined by former members Peter Furler and Phil Joel for a string of the most popular hits from the iconic band's three-decade career.
"I've been on the road all my life, including the famed 'Jesus Freak Tour,' and this is one of my top three favorite tours ever," said Newsboys' Michael Tait. "I am loving this experience!"
"Already this tour has far exceeded our expectations," said Zealand frontman and Newsboys United's Phil Joel. "I don't think any of us knew exactly how monumental it was going to be or just how much it would mean to everyone. It's really special."
Produced by Premier Productions in partnership with the Newsboys, the tour is set to visit more than 30 additional cities across the nation, including Houston, Minneapolis, Dallas and Orlando, Florida, before wrapping May 6. The "Newsboys United Tour" features special guest Word recording artist Zealand, which is founded and fronted by Phil Joel.