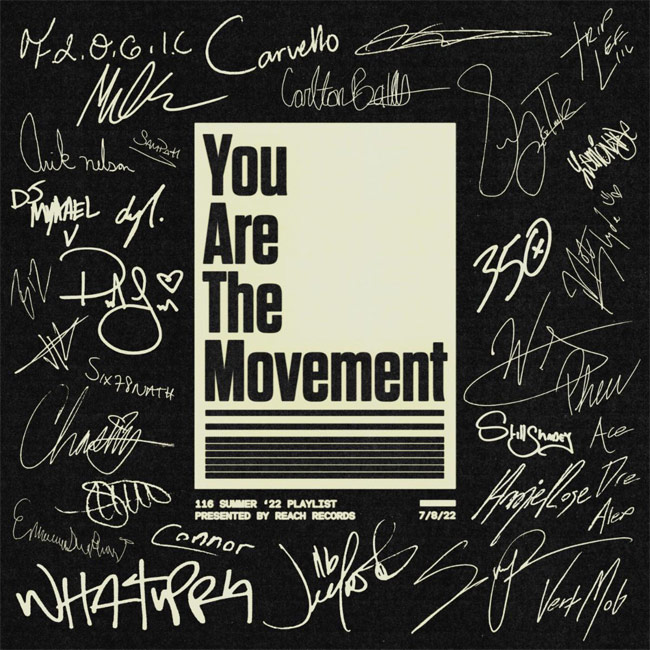 Reach Records
 has announced the release of the Summer '22 Playlist, their 5
th
 iteration of the 116 playlist, an annual audience experience highlighting the innovation within the Christian Hip-Hop (CHH community). The Summer '22 playlist is a musical montage that celebrates how far the culture has come, reflects on the current state of Christian Hip-Hop, and inspires the next chart-topping Christian rap artists to take ownership of the future of CHH!
Every year, the playlist is an opportunity to shine a light on Reach Records and Independent CHH artists. It's a collective moment of unity for believers who loves hip-hop and for people discovering the best artist in the Christian Hip-Hop genre!
This year's playlist is more robust than ever with 19 new tracks! The first visual from the project is the "
Steppin
" music video which features Miles Minnick and WHATUPRG. Lecrae links up again with protégé 1K Phew for "Any Attack." 1K Phew makes another appearance alongside his 1K Famo collective and Vert Mobb on "Lord Of The Rings."Chastity and Porsha Love rep for the ladies again with "Love So Sweet," Afrobeat superstar, Limoblaze, runs "Circles" with George.Rose; Arik Nelson, Battz, and F.L.O.G.I.C. serve on "Lunch Table," and nobigdyl. rounds out the playlist with "One Way!"
Please check out the full track list below:
1. PEACHTREE by Big Breeze
2. STEPPIN by Miles Minnick, WHATUPRG
3. HUMMER by 350 feat. Wxlf
4. ONE WAY by nobigdyl.
5. Have A Nice Day by Tedashii feat. 1K Phew
6. Circles by George.Rose feat. Limoblaze
7. Love So Sweet by Chastity feat. Porsha Love
8. Lunch Table by Arik Nelson, Battz, F.L.O.G.I.C
9. BIG DAWG DESIGNER PANTS by 1K Phew feat. NotKlyde
10. Any Attack by Lecrae, 1K Phew
11. Lord of The Rings by 1K Phew,1K Famo, VERT MOB
12. Rock out by Emanuel Da Prophet
13. Wait and See by Still Shadey, 678NATH
14. WAVESKI by VERT MOB feat. BigBreeze, Scootie Wop
15. Wouldn't U Rather by DJ Mykael V feat. Jon Keith, Paul Russell
16. New Church by 1K Phew feat. 1K Pson
17. Supernatural (Remix) by Trip Lee feat. 1K Phew
18. I Need You by Limoblaze, Scootie Wop, Angie Rose
19. Ultra Light by Chastity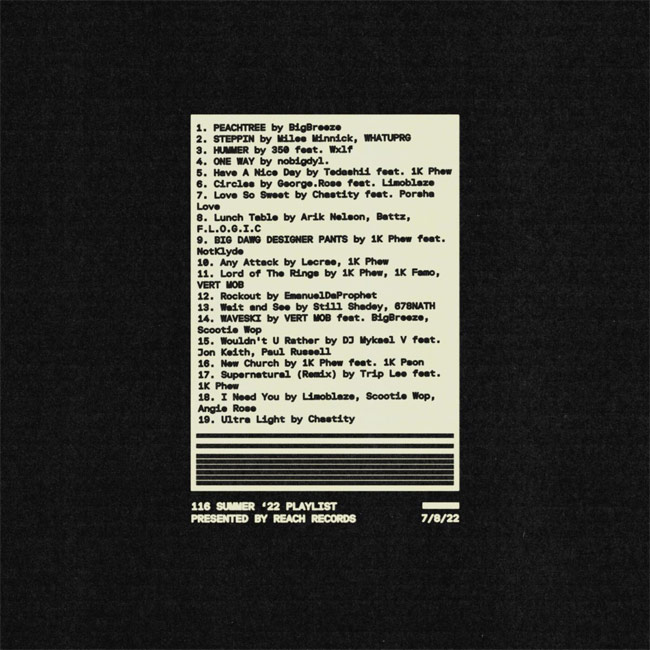 Music Video for "STEPPIN" by Miles Minnick, WHATUPRG