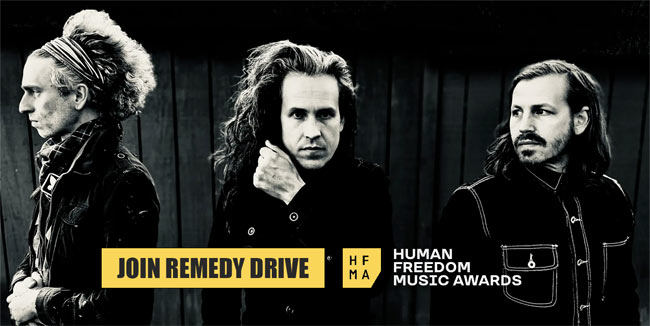 Remedy Drive is participating in the inaugural Human Freedom Music Awards, a movement that gives them the chance at a $200,000 grant towards their work in combating human trafficking. Fans can support them by going to https://bit.ly/RemedyDriveHFMAs.
"We've joined a movement that includes members of Switchfoot, One Republic, and acclaimed music producers in an effort to recruit musicians to shine a light on human trafficking," Remedy Drive's David Zach explains. "They are giving out grants to artists who combat human trafficking and can demonstrate that their audience is involved."
Supporters of Remedy Drive and their counter-trafficking work can demonstrate their involvement in these ways:
Make an HFMA account at https://bit.ly/RemedyDriveHFMAs (signing up as a fan, using their name)
Going to their supporter dashboard profile and selecting Remedy Drive as the artist they support
Listening to the song "Lovely" on the HFMA site
Begin taking actions to earn points (Remedy Drive gets points every time their supporters do)
Some of the actions include downloading a phone wallpaper, putting "Lovely" on a playlist, posting on social media, or donating any amount. All of these actions (except for donating) can be done every day to keep adding up points.
"We'd love your help with this exciting chance for us to gain exposure and momentum for our music and our work," David Zach concluded.
Remedy Drive has been working in counter-trafficking advocacy and investigative work with The Exodus Road since 2014. They have now released three concept albums, Commodity, North Star, and Imago Amor, based around the stories they have encountered over the past 7 years.
Learn more about the Human Freedom Music Awards at humanfreedomawards.org. Keep up with Remedy Drive and their justice work on Facebook, Instagram, and Twitter, and hear their music on Spotify and Apple Music.