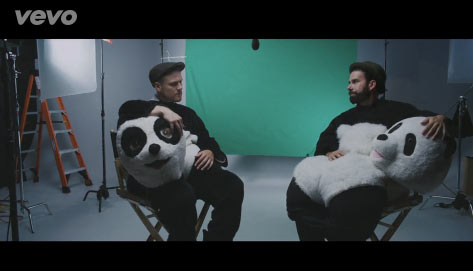 Rend Collective's "You Will Never Run" video premiered exclusively on FoxNews.com. Click here to watch FOX News Host Todd Starnes' interview with Rend Collective and to see the exclusive premiere of the "You Will Never Run" music video!
About Rend Collective
Hailing from a small town off the coast of Northern Ireland, Rend Collective (Gareth Gilkeson, Chris Llewellyn, Ali Gilkeson, Patrick Thompson and Stephen Mitchell) wants to be known as a celebration band, worshiping for God's Glory and fame. Since the release of their first album, Organic Family Hymnal, the group's authentic and energetic style of worship has attracted an international audience, with career sales of more than 300,000 albums. The group saw early success as their first ever single "Build Your Kingdom Here," peaked at No. 12 on the National Christian Audience Chart. Their 2014 release The Art of Celebration, charted at No. 1 on the Billboard Christian Albums Chart within the first week of its release. Known for their electric lively worship, the band has been a part of several major tours with top artists such as Chris Tomlin, MercyMe, Kari Jobe, Lecrae and more. Rend Collective is currently preparing to embark on two headlining tours in 2016. The group's anticipated new album, As Family We Go, is set to release August 21.
Get Connected With Rend Collective Website: http://rendcollective.com Facebook: http://facebook.com/rendcollective Twitter:https://twitter.com/rendcollective Instagram: https://instagram.com/rendcollective Spotify: http://tinyurl.com/rendcollectivespotifyApple Music: http://smarturl.it/AsFamilyWeGoAPL GooglePlay: https://play.google.com/store/music/artist/Rend_Collective?id=Awch4mrsu4hi5utotmvhpytjiqq