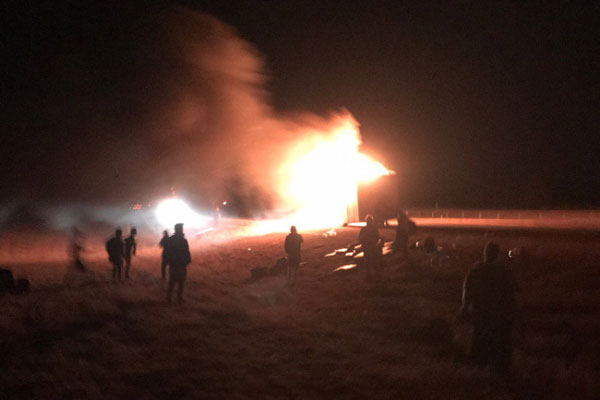 Word Records pop band Sidewalk Prophets's bus went up in flames Friday morning while on the road in Texas on their Something Different Tour. The band got out safely, but thousands of dollars of equipment and personal belongings were lost. The band is currently raising funds on GoFundMe with a goal of $95,000.
On the campaign page, the band writes:
We had a horrific fire last night while on tour.

This morning as we got on the highway from Texarkana TX in route to Amarillo for the opening weekend of our Something Different Tour our bus trailer caught fire.

At approximately 5am on I-40W just outside of Okemah, Oklahoma our bus driver opened the galley door to the bunk area of the bus and ordered us to evacuate the bus because of the fire. Our team scrambled to get out of the bus as smoke began to fill the bus.

Thankfully, with some quick thinking and hard work by our driver and some crew we were able to unlodge the bus from the trailer safely before the trailer completely went up in flames. At approximately 530am the local fire crew came and extinguished the trailer fire.

We are thanking God that our band family (band/crew) are all accounted for and safe. This is one of the scariest moments in our 16 years as a band.

Unfortunately, the trailer contained a lifelong collection of priceless musical equipment and many of the pieces that were crucial to our tour. Many of these items are rare and cannot be replaced. We are estimating the value of lost gear/equipment/merchandise at over 95,000 dollars.

We are currently working with our insurance company to file a claim but know from past experiences that most of these items will not be covered.

We believe that there is a darkness that would desire to slow us down, shut us up, and fill us with fear and we are resolved to continue the work we've been called. We are committed to the cause of Christ and will do everything in our power to continue playing shows, writing songs, sharing unconditional love and hope across the country and world.

Tonight we are heading to Amarillo and will perform a show with whatever working pieces of instrument and gear we have.

We have set up this GoFundMe page to recover the gear/equipment/merchandise that was lost in the fire. We are humbled and thankful for any support you can give whether it be prayers, sharing on social media, or contributing the this campaign.

Thank you for your support.