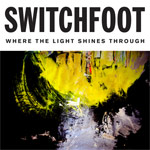 Multi-platinum selling alternative rock band SWITCHFOOT announced their upcoming album, Where The Light Shines Through, which will be released on July 8th, 2016 via Vanguard Records in partnership with Capitol Christian Music Group.Where The Light Shines Through, the band's tenth album and the first since 2014's highly acclaimed Fading West, was produced in collaboration with John Fields, who helmed the multi-platinum breakthrough The Beautiful Letdown.
This album marks an important milestone in the band's hugely successful career. SWITCHFOOT's journey began in 1997 with the first of three indie releases before signing with a major label in 2003. Since then, the San Diego, CA based outfit have sold 5.7 million copies worldwide of their nine studio albums (including 2003's The Beautiful Letdown and 2009's GRAMMY Award-winning, Hello Hurricane). Where The Light Shines Through marks the band's return to the indie world and showcases that, two decades from their start, they're able to have a career filled with longevity, revitalization and rejuvenation.
Watch the album trailer below:
The album is currently available for pre-order on the band's website (www.switchfoot.com) along with streaming track premieres of two new songs "Float" and "Live It Well" (both of which are offered via instant grat download when pre-ordering the album). PRESS HERE to purchase Where the Light Shines Through via iTunes and PRESS HERE to purchase via Amazon Music.
SWITCHFOOT'S 12th annual BRO-AM has been announced for July 9th, 2016 in Encinitas, CA. The annual celebration draws over 15,000 people for a surf contest and free concert on the beach to benefit local youth charities. "The BRO-AM has been our favorite day of the year for over a decade," says SWITCHFOOT'S Jon Foreman. "To see our community come together is an incredible experience. What better way to celebrate our 10th record than to play the new songs on the beach in our hometown to help kids in need."
SWITCHFOOT will tour through 2016 with dates being announced soon.
SWITCHFOOT consists of Jon Foreman (vocals, guitar), Tim Foreman (bass), Jerome Fontamillas (keys, guitar), Drew Shirley (guitar) and Chad Butler (drums).
Where The Light Shines Through track listing:
Holy Water
Float
Where The Light Shines Through
I Won't Let You Go
If The House Burns Down Tonight
The Day That I Found God
Shake This Feeling
Bull In A China Shop
Live It Well
Looking For America (featuring Lecrae)
Healer of Souls
Hope Is The Anthem
About the album, frontman Jon Foreman wrote:
Ironically, this album of light was born from one of the darkest times I've ever been through. But instead of running away from the darkness, I wanted to meet it face to face. So I made a commitment to sit on a rock near the ocean for thirty minutes a day and wrestle with these dark questions. The darkness and I would argue every night. On the same rock, under the same stars: just the darkness and I fighting it out alongside of the uncompromising roar of the pacific ocean. And somehow, against that backdrop of darkness, light began to break through. These scars of mine began to turn into songs. What are my struggles? What are my fears? Where do I find God? Or more aptly put- where does God find me?Lately, he's been finding me in the dark, sitting on a rock beside the ocean. And through these times in the dark I'm beginning to realize that "living it well" means something bigger than just pretending: pretending that everything is OK, pretending that I have all the answers. That living well begins by acknowledging the wound. After all, the dark wounds of our world are inescapable- the wound is you, it's me, it's humanity. The wound is Afghanistan, it's Palestine, it's the United States. The wound is our broken homes, our broken marriages, our broken hearts. The wound is Golgotha, the wound is the cross. But rather than running away, let's embrace the truth about our broken humanity, and the truth will set us free! Let's not pretend to be well- after all, it's the sick that need a doctor. No, we are the wounded. Mortally wounded. Darkly wounded. But, the wound is where the light shines through. Do we really believe in a Living God who is our redeemer, strong and loving- capable of healing these wounds? If so, then let's bring our darkness to him. All of it. Life is short I want to live it well. – jon