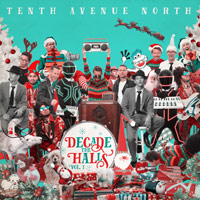 The holiday season is in full swing for Tenth Avenue North as their Christmas album, Decade The Halls Vol. 1 (Remade Records) is available today. This unique concept-album is a musical walk through the last 100 years of Christmas music with each song featuring a different decade starting in the 1920s all the way to present day. This album displays the band's creative and musical talent as they explore different instrumentation, rhythms, and tones specific to each decade and genre of that time period.
Click here to purchase the album or here to stream Decade the Halls Vol. 1. Check out the album review video below that is hosted by the band's one and only Kenneth the Christmas Yeti.
The band will be taking this concept album on the road next month with Zach Williams and Meredith Andrews. Tour dates and ticket information can be found at tenthavenuenorth.com/tour. Compassion International present "Decade The Halls" tour will feature the stylistically different songs with full wardrobe changes to coincide with the different decade for a memorable holiday event.
"This is usually one of those ideas that either completely works, or falls completely flat, but we think Tenth Avenue North is the only contemporary Christian band in our market today that could have done this—and honestly, we think it's done quite well. With Decade The Halls, Tenth Avenue North gives us the gift of something so completely different, yet so welcoming and familiar all in one package."
"Just like the cover art, there is a lot to take in here, and while it can be a little busy at first, it's exciting on early listens and rewarding for repeated listens. Hats off to Tenth Avenue North for doing something unique for their first full-length Christmas album."
"Christmas is coming in fast – and thankfully, Tenth Avenue North has a yuletide playlist ready to go. The beloved band of five presents ten tracks from a hundred years of Christmas music, representing ten decades of styles, sounds, and motifs. From celebrating the Savior's birth to enjoying the comfort of friends and family, there's a wide variety of themes to enjoy. Decade The Halls is a fun-filled collection, wrapping together a musical legacy with unique and engaging sounds, fantastic guest vocalists, and an energy quite fitting for the season."
– The Christian Beat