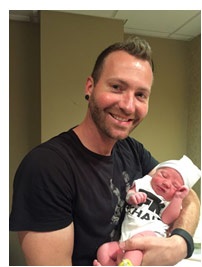 Thousand Foot Krutch lead singer, songwriter and guitarist Trevor McNevan has a lot to celebrate this week. In addition to already hitting No. 1 on iTunes' Rock Top Albums chart (No. 3 overall Albums) in the US with Top 5 overall albums chart placement in Canada, Russia, Australia, Finland and more with today's release of EXHALE, the long-awaited hard-rocking follow up to 2014's OXYGEN:INHALE, McNevan is the proud dad of a brand new baby girl just in time for Father's Day weekend. He and his wife, Erin, announce the birth of Jade Autumn Lynn McNevan, who was born today in Nashville, TN at 4:30 pm CDT, weighing 7 pounds, 14 ounces and measuring 20.5 inches long.
"She has tons of brown hair like her mom and a strong set of lungs like her daddy!" exclaims Trevor McNevan. "Mom's doing awesome."
After taking time to enjoy his growing family that includes three-year-old son Cohen, McNevan, along with TFK bassist Joel Bruyere and drummer Steve Augustine, will take their fan favorites and the new arena-shaking anthems of EXHALE on the road to see their extended family of fans coast-to-coast.
Following the band's recent, first-ever mainstage performances at Monster Energy Carolina Rebellion and Rocklahoma, TFK's headline "Exhale" tour launches July 15 in Lancaster, OH and will run through mid-August. For the tour, TFK will be joined by fellow rockers Adelitas Way,Smashing Satellites and 3 Pill Morning. (See www.thousandfootkrutch.com/shows/ for all the latest tour updates.)
With EXHALE, TFK are back to the aggressive side of the dial. The album released independently worldwide on TFK Music and with marketing, sales and distribution through Fuel Music. Available at iTunes, Amazon.com, Best Buy and other digital and physical retailers internationally, the acclaimed new album is shaking stereo speakers and earbuds, all the while being crafted to be fully experienced live.
The album features the video and current top 23 Active Rock hit single, "Running With Giants," which launched TFK into Loudwire Cage Match Hall of Fame and is being featured now in Loudwire's "Battle Royale," as well as through outlets like Promo Only, Music Choice, Much Music and many more. EXHALE also includes riff rocker "Incomplete" and second chances-themed "Born Again" along with "Give Up The Ghost" and "A Different Kind Of Dynamite." Revolver further premieres the album's lyric video, "Lifeline," today.
"'Lifeline' is about a time in my life when I was feeling very overwhelmed, to the point of anxiety," says McNevan in Revolver. "I felt like I was drowning in the waves of everything around me, and battling my own rational. The feeling of being alone in isolation wasn't true, but it sure felt like it. And in that moment, the lyrics, I need it all this time, send me a lifeline, were the exact words I remember crying out for help."
Nearly two years after Thousand Foot Krutch landed their second consecutive Hard Rock No. 1 and Billboard Top 10 album with OXYGEN: INHALE, EXHALE is proving to be the chart-topping, hard-hitting follow-up.
"I had gotten the idea a few years back of having an album called 'Inhale' showcasing the lighter, quieter side of the band that's always been a part of our albums, allowing us the freedom to dig deeper into that than we have before. And then to have an album called EXHALE that drops the gloves and dives even deeper into the aggressive side of the band. We didn't get soft on the last one! I promise!" laughs TFK front man Trevor McNevan. "It was always meant to be a two-part story."
In the midst of the success of the new album from TFK, McNevan's songwriting and vocal talent is also getting time on the "big screen" as he co-wrote and performed the end credits theme song for the No. 1 Box Office movie, Teenage Mutant Ninja Turtles: Out of the Shadows.
Recently sharing new music from EXHALE on their third tour of Russia in as many years and during their first mainstage performances at Monster Energy Carolina Rebellion (where TFK was also featured during the Alternative Press Zippo Acoustic Sessions) and Rocklahoma fests, TFK's current "Exhale" tour itinerary follows:
7/09/2016 Wellsville, NY*
7/15/2016 Lancaster, OH
7/16/2016 Clarksville, TN
7/17/2016 Newport, KY
7/19/2016 Harrisburg, PA
7/20/2016 Cleveland, OH
7/21/2016 Detroit, MI
7/27/2016 Merriam, KS
7/28/2016 Denver, CO
7/29/2016 Salt Lake City, UT
7/30/2016 Clarkston, WA
8/03/2016 Wausau, WI*
8/05/2016 Spokane WA
8/06/2016 Tacoma, WA*
8/08/2016 Sacramento CA
8/09/2016 Fresno, CA
8/10/2016 Anaheim / Los Angeles, CA
8/11/2016 Phoenix, AZ
8/13/2016 Cloquet, MN*
8/16/2016 Dallas, TX
8/17/2016 Houston, TX
8/18/2016 New Orleans, LA
8/27/2016 Garden City, KS*
8/31/2016 Palmer, AK*
9/10/2016 Orlando, FL*
Tour dates subject to change.
* Tour dates that do not include Adelitas Way, Smashing Satellites, 3 Pill Morning.
About Thousand Foot Krutch:
Ontario, Canada-bred TFK has been a continuously escalating highlight reel since their formation in 1997. With over 1.1 million albums sold, ten Active Rock hits, numerous soundtrack slots, plus a massive presence in professional sports, the group has literally infiltrated every facet of pop culture. Continuing to receive ongoing ESPN appearances, as well as various NASCAR, MLB, NHL, WWE, NCAA and NFL airings (including the 2010 Super Bowl), TFK has songs featured in EA Sports' NHL 2010 and 2013 video games and tallies about 30,000,000 monthly views in combined streaming across all of YouTube. Just since going independent in 2012, TFK has sold an astounding 350,000 albums, a million singles and garnered 54 million streams.
All the latest band information can be found at www.thousandfootkrutch.com, Twitter, Instagram, YouTube, Google+, Bandsintown and Facebook, where the band has over one million likes.