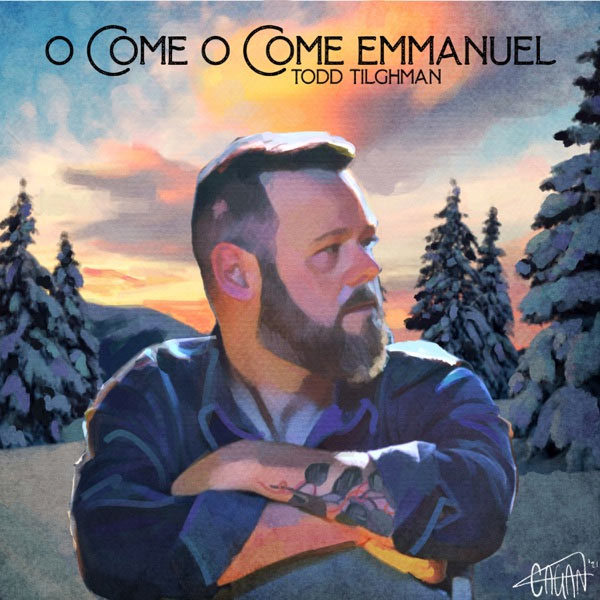 Todd Tilghman, the country music vocalist who won season 18 of The Voice, is inviting you to start celebrating the holiday season with "Oh Come Oh Come Emmanuel."
For his take on a Christmas classic, Tilghman drew deep on folk musical heritage— and on his own personal faith. "This song makes you feel introspective and almost kind of sad, but also hopeful at the same time," the singer explains of his choice to take on the old hymn. "Because of what Christmass means to me, Christmas music is meaningful to me."
The resulting arrangement of "Oh Come Oh Come Emmanuel" is as haunting and hopeful as Todd intended, its minimalist production style framing a call for light to break through the dark— a timely message at the end of two difficult years. The track is the first from a 5 track upcoming Christmas EP, Old Photos at Christmastime. Most of the songs will follow the musical blueprint drawn by "Oh Come Oh Come Emmanuel," creating a sound that Todd Tilghman identifies as "homey and appalachian."
That approach to producing a Christmas EP is fitting for the pastor-turned-country artist, who showed up to every episode of The Voice with authenticity and humility. Speaking about navigating the expectations he has found placed on him, Todd says, "I woke up one day and God was like 'Todd, the people who want to judge you are going to judge you no matter what you put out. So you might as well just be authentic.'"
It's an authenticity that stems from the maturity of a life well lived. In addition to spending years serving as a pastor, Todd is dad to eight kids, two of whom are adopted. His journey of faith through fatherhood is a such a crucial part of his story that it recently drew People to run a feature story on the Tilghman family. "It was really important to me to let people know that God did all that. The whole process of our adoptions was just a miracle," Todd freely admits.
Telling his adoption story has had the exact same effect as his authentic music: it invites others to bring their stories to the table as well. "When you have a big church dinner and it's near the end of the night, eventually someone will start just picking up plates or sweeping the floor. When they do that, other people see that and join in," Todd explains. "I have seen that in this article, and I've seen that other times when I've been able to openly speak about adoption."
When you hear "Oh Come Oh Come Emmanuel" this holiday season, it may be the start of your opportunity to reflect on your own faith, your own family and the memories that have shaped you.
"Oh Come Oh Come Emmanuel" is releasing November 26, and the Old Photos at Christmastime EP is due out December 10. You can presave the song at https://distrokid.com/hyperfollow/toddtilghman1/o-come-o-come-emmanuel. For all things Todd Tilghman, you can follow him on Instagram, Facebook, Twitter and YouTube.