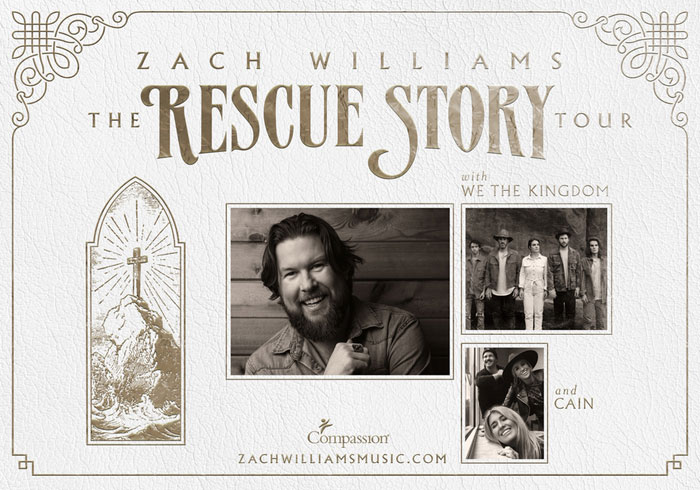 Last fall, multi-award-winning artist and songwriter 

Zach Williams

 wrapped "The Rescue Story Tour,"  his first major headlining run, and d ue to its success, he is embarking on an even bigger second leg of the tour. This spring, beginning  March 5 and running through May 9, Williams will hit 40 major markets from California to Florida, such as Clearwater, FL, Houston, TX, Green Bay, WI, Birmingham, AL, and San Francisco, CA, with a handful of the dates are already sold out.
Bringing his 2019 tour to more than 26,000 concertgoers in 20 markets, which included numerous sold-out shows such as Nashville's historic Ryman Auditorium and Williams' hometown of Jonesboro, AR, "The Rescue Story Tour" featured special guest artist Josh Baldwin of Bethel Music. The spring tour will welcome We The Kingdom ("Holy Water") and the sibling trio Cain.
Williams offered a unique aspect to his tour last year with his "VIP Meat & Greet" experience. Held prior to the concerts, Williams hosted an exclusive full-course gourmet meal prepared by Paul Fields, a professional chef from Napa Valley, CA. VIP attendees were also given specialty gift bags, premium concert seats, photo opportunities with Williams, and much more. This VIP experience will happen again this spring and at press time, many of the "VIP Meat & Greet" experience tickets have already sold out.
Fans will get to hear many of Williams' hit songs such as the top-charting "Chain Breaker," "Old Church Choir," "Fear Is A Liar," as well as his current hit, the GRAMMY-nominated single "Rescue Story," which is featured on his latest album of the same name.
"Rescue Story" also earned Williams his fourth GRAMMY nomination (Best Contemporary Christian Music Performance/Song). He will be attending t he 62nd Annual GRAMMY Awards, which will be held this Sunday, January 26, 2020, in Los Angeles, CA and air on CBS.
Tickets are on sale now for "The Rescue Story Tour." See below for the most current schedule, and be sure to visit his 
website
 for the latest information and to purchase tickets.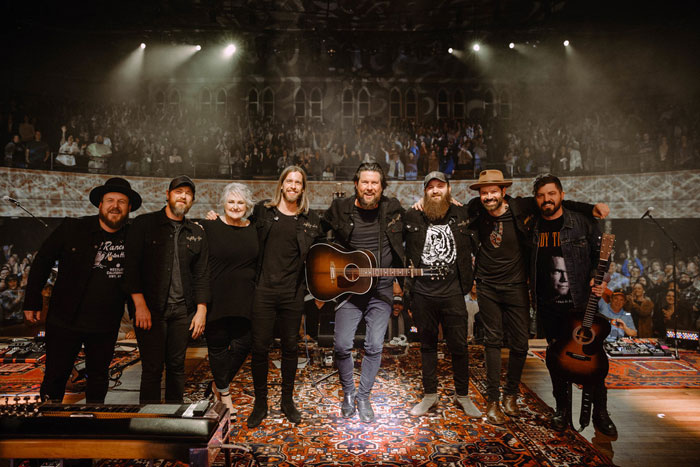 Wiliams, his band & Josh Baldwin at Nashville's Historic Ryman Auditorium sold-out show, Nov. 2019
"THE RESCUE STORY TOUR" SPRING TOUR DATES*:
March 5 – Clearwater, FL
March 6 – Lakeland, FL
March 7 – Oviedo, FL
March 8 – Sarasota, FL
March 12 – Amarillo, TX
March 13 – Euless, TX
March 14 – Houston, TX
March 15 – San Antonio, TX
March 19 – Westerville, OH -SOLD OUT
March 20 – Green Bay, WI
March 21 – Milwaukee, WI
March 22 – Ft. Wayne, IN
March 26 – Madison, MS
March 27 – Woodstock, GA
March 28 – Johnson City, TN
March 29 – Meridian, MS
April 2 – Aiken, SC
April 3 – Durham, SC
April 4 – Taylors, SC –  SOLD OUT
April 9 – Dothan, AL
April 10 – Birmingham, AL
April 11 – Bowling Green, KY
April 16 – Denver, CO –  SOLD OUT
April 17 – Albuquerque, NM
April 18 – Tuscon, AZ
April 19 – Oceanside, CA
April 21 – Yorba Linda, CA
April 23 – Highland, CA
April 24 – Visalia, CA
April 25 – Modesto, CA
April 26 – San Francisco, CA
April 28 – Sacramento, CA
April 30 – Portland, OR
May 1 – Spokane, WA
May 2 – Coos Bay, OR
May 4 – Billings, MT
May 5 – Casper, WY
May 7 – St. Peters, MO
May 8 – Memphis, TN
May 9 – Chattanooga, TN
*All dates subject to change; visit his 
tour page
 for the latest information