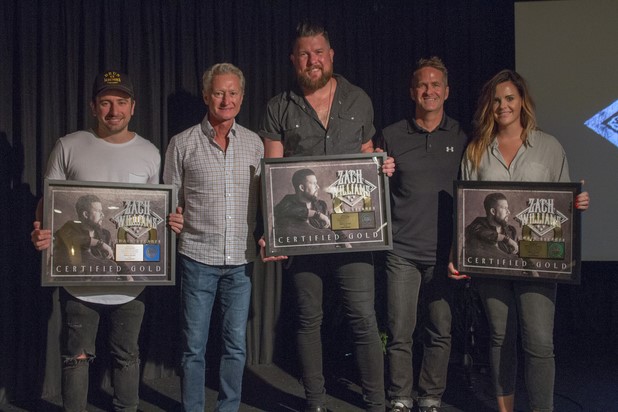 Earlier this year Provident Label Group/Sony Music proudly announced that Zach Williams' record-breaking single, "Chain Breaker," became RIAA Certified Gold. Earlier this week in Nashville, Williams was presented with the official gold plaque, surrounded by his family, management, label team and fellow songwriters Mia Fieldes and Jonathan Smith.
When it released in the early fall of 2016, "Chain Breaker" was an instant hit, holding the No. 1 spot at radio for an astounding 15 weeks. The song was then followed by "Old Church Choir," which became the most successful Christian radio single in over a decade, maintaining No. 1 at radio for 20 weeks and was the second longest running No. 1 single in Billboard's Christian radio history, naming Williams the first debut artist to have two back-to-back No. 1 singles. His current single, "Fear Is A Liar," continues to stay in the top of the radio charts as well, currently holding at No. 2. The songs are all featured on Chain Breaker, Williams' GRAMMY® Award-winning debut LP.
Last evening in Nashville, Williams was awarded by BMI with a Citation of Achievement for "Chain Breaker," recognizing the song for its national popularity and reach. Just prior to the BMI Awards, Williams performed at the Historic Ryman Auditorium in front of a sold-out audience, closing out his set with the anthemic hit song.
After headlining his own tour earlier this spring, Williams continues to tour this summer and fall around the U.S. For the most updated schedule please visit his tour page.